Blog: Well after the most hyped up, over the top, "we're right, you're wrong" build up to a game in many a year, we go out 2-1 to the Scousers after what was a fairly controlled performance, undone by a single moment where our defence and one Patrice Evra went to sleep, handing Kuyt the winner on a plate.
I for one am just delighted the game is over, the media led hand wringing all of last week was getting unbearable. Both tabloids and broadsheets did their utmost not to be seen to be stoking the fire before the game but you could tell that both were hoping for the worst both on and off the pitch on Saturday so they could then preach from on high to both clubs supporters about how to "act properly".  Considering the s**t the UK print media has been involved in the last few months, they as an industry should be winding their collective necks in….but anyway.  As for the whole Evra/Suarez thing?  My view is that LFC should just accept the verdict, the longer they harp on about the supposed injustice of the decision, the more ridiculous they look.  Their fans didn't cover themselves in glory at the weekend either and as the United end reminded them, why is it never Liverpool's fault and always someone else's?  No wonder its labelled the European city of self fucking pity.
As for the game, I saw very encouraging performances from Tony V (predominantly in the first half) and from Rafael (his full throttle 50/50 with Gerrard being my favourite moment of the match).  Other good shifts were turned in from Carrick and Scholes.  As for De Gea, I'm willing to persevere.  Still young, I see huge potential in him but I will say this…if they cannot get him to command his penalty area then he has no future in England, end of story; my approach would be to have an hour of non stop crosses every day in training and have the likes of Smalling, Rooney, Berbatov, etc. batter him non stop - trial by fire…then again I'm not Fergie…but if you're reading Alex, you can thank me later!  We have to remember that he is just 20, still getting to grips with playing in England and also trying to learn a new language.  Its a huge task for anyone, even worse when you're between the sticks for United and every JCL on twitter wants you to be shot after making a single mistake.  If you are one of those said JCL (read: Johnny Come Lately) twitter dopes, I pray to god you decide to p**s off and support the bitters in a few years. You're supposed support we can all do without.
So we're out of all cup competitions by the end of January.  Who'd a thunk it? Well that's football for you.  And as I've said before, its never dull watching this club. We've a huge couple of weeks upcoming, I for one will be very surprised if we're still in contention at the end of it, purely based on the injuries we have.  It will take Cleverley coming back in at full throttle and Rooney taking up the goal scoring slack for us to have any chance.  We shall see.
- WATPOAE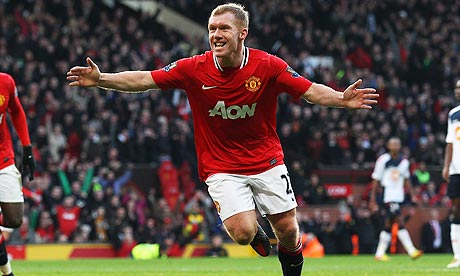 Blog: Despite another valuable 3 points at home to Bolton yesterday and what appears on paper to have been a relatively easy win, my god we laboured to victory.  Parts of the 1st half seemed like a continuance of the 2nd half vs city from a week before. Scholes popping up at the back post just before the half time whistle was a relief but really only papered over the cracks of the overall team performance. The second half was somewhat better with plaudits to Tony Valencia who kept on running at Bolton all day long and Carrick's lovely finish for United's third goal.
Our midfield is so bereft of anyone who can actually grab hold of the ball and control play that its absolutely astounding that Fergie hasn't done something about it.  And I don't count bringing a 37 year old out of retirement as doing anything. It says more about his lack of confidence in Anderson, Pogba and Morrison at the current time than anything. We've obviously got bugger all money available for a transfer of any nature, hence we're going cap in hand to get former greats out of retirement. It saddens and annoys me but then again, hardly surprising considering the ownership and the black veil of secrecy that covers everything at Old Trafford these days.
He will no doubt do something transfer wise in the summer but not before selling someone, most likely Berbatov and one/two others I suspect. This is Manchester United in 2012. Supposedly the "biggest" football club in the world but without a pot to piss in. If we had any other manager except Ferguson, god only knows the level of shit we'd be in.
- Watpoae
(Source: Guardian)